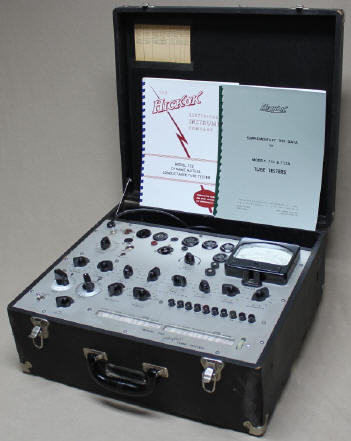 Click on any image to enlarge
This is an exceptionally nice tube tester, not the interior is extremely nice (near mint) but the case is in as good condition as any I have seen. There are only very minor scuffs & blems in the case. This means this piece has seen very little travel and likely little use. The roll chart works smooth and freely and is dated spring 1972 (as up to date as one can get).
The 533A will test all the consumer tubes from the early 1920's - early-mid 1960's. The roll chart is dated 1968 so it's about as up to date as one can expect for the newer type tubes. However, it does not have the more modern sockets that came out in the mid - late '60's (Compactrons, Novars & the Duo-Decar bases). It will require an adaptor to test those (mostly TV tubes).
HERE'S WHAT YOU GET:
serviced and calibrated

all functions working properly

all controls and sockets treated with DeoxIT

updated roll chart

serviced and calibrated meter

clean inside and out

my re-mastered, reprint, comprehensive tube test data manual

reprint instruction manual

all test circuits checked and working properly
Measurements (approx): 19 x 17 x 8"
Shipping weight (estimated): 32 lb.
$670.00 with free shipping within the continental USA
| | |
| --- | --- |
| | Instruction manuals and tube test set-up charts available for the above and other models > ORDER |