Magnavox Model TRF-50
1924 Radio Receiver (also model A or TRF-5)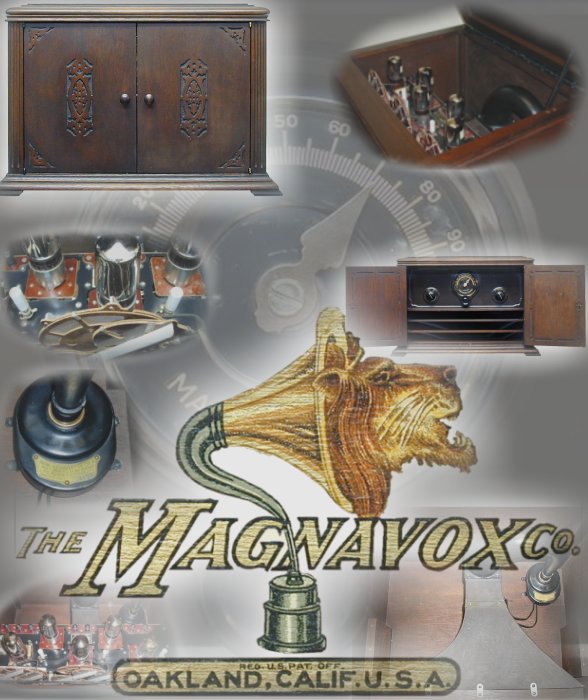 click any area above for additional views
the Magnavox Company
1924 Radio Receiver RF-50
Magnavox was a high quality company and were first in several areas, one being the voice coil, invented and patented around 1917. When other horn speakers were nothing more than an earphone mounted at the base of a horn. Magnavox horn speakers actually had a voice coil driven diaphragm. This gave their speakers much more power and superior sound quality. The same principal is used in speakers to this day!
The Model "A" is another first (at least Magnavox so claimed), the first with "single dial tuning". Practically all radio receivers of the mid 1920's had 2 - 4 tuning dials plus additional controls (some as many as 12!) making station finding a real challenge. The model "A" is one of the simplest early battery receivers that I have ever dialed in a station on. With only two controls and an on/off switch, it had to be the epitome of simplicity of it's day. The simple operation of this set does not in any way take away it's performance, it is surprisingly sensitive and selective across it's tuning range. The "A" and TRF-5 versions are the same electronically, the TRF-50 is housed in a large cabinet with the speaker built in. ITs a large set measuring 22" wide, 16" tall & 18" deep. Note the unusual looking tubes, they are unique looking tubes, made by Magnavox, known as; Magnavox "Universal" Tubes.
I will have a link to more Magnavox info including some early advertising and tube information later.
I have owned this set for many years and only recently completed the restoration which did not amount to very much as the cabinet & finish are all original. The electronics restoration was mainly repairing (fabricating one of the fiber gear drives), otherwise the innards are also 100% original and like new. I have included many views of the innards because I find it most interesting in design and engineering. The tuning is not only a single dial but a complicated inductive array, rather than the more simple capacitive tuning.
< Beautiful Magnavox Pamphlets and paper items for sale
For those of you who love to look at old
radio guts, this one's a real treat.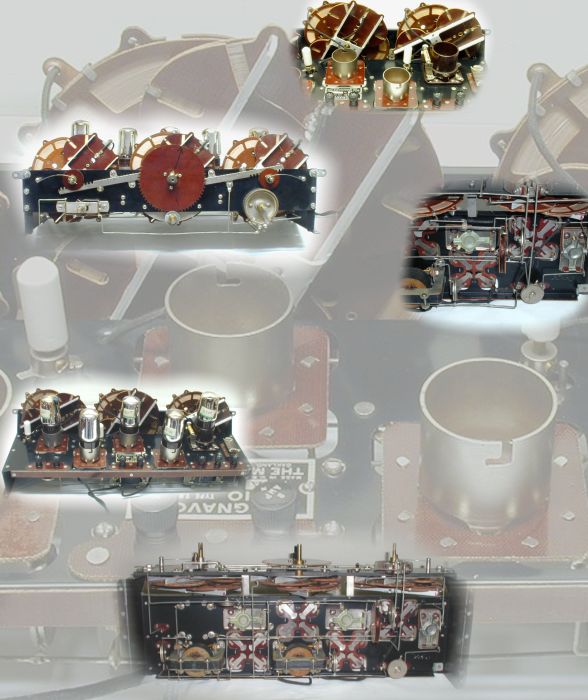 | | |
| --- | --- |
| | < Power supply for 1920's battery radios available |
| | < Magnavox instruction manual, pamphlets and other Flatwork for sale |
| | |
| --- | --- |
| return | RadiolaGuy Collection, not for sale |