Sodion Receiving Set DR-6
Connecticut Telephone & Electric Co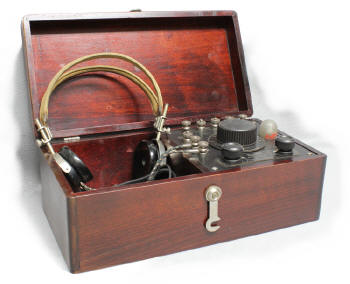 DR-6 Sodion receiving set
The Sodion receiver is a unique receiving set. One thing that makes it different is the tube used as it's detector, Connecticut Radio's S-13. The S-13's claim to fame is it's ability to function as a detector without oscillating. Tuning is accomplished by means of a "pancake" style variometer. It covers most of the broadcast band (570 - 1350) kilocycles.
The original price of the receiver with the S-13 tube & headphones was $29.95. DD-11 audio amplifier/s at the cost of $10.00 each (less tubes) could be purchased and conveniently added in the open space left of the receiver.
I've had this neat little set for many years but have never attempted to operate it. I'll provide more info if I ever get around to see how it works.
< Reprint manuals for the receiver and Sodion DR-6 are available
< Power supply for 1920's battery radios available