Wilcox Radio "Cathedral Junior"
mfg: The Wilcox Laboratories, Inc. Charlotte, Michigan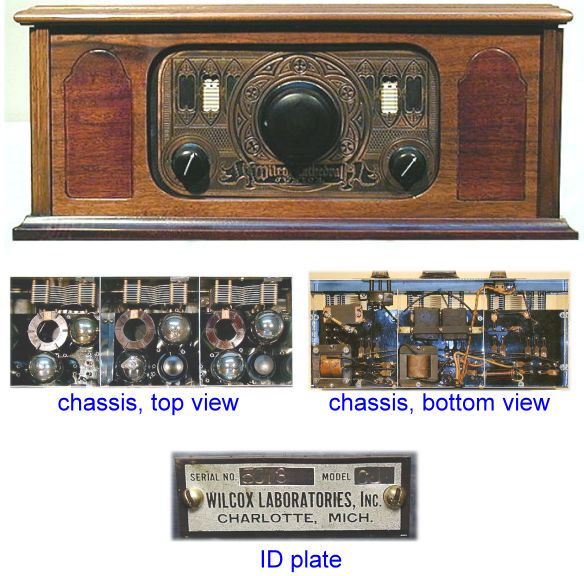 From the mid 1920's, a rare, unusual and unique early battery set in many ways. First of all, it's compact size, measures only 17" X 7" with 6 tubes. Unusual in that the electronics is totally encased in an aluminum container and each RF stage is separated by an additional shield and the RF coils are plug-ins. The front panel features only two controls (tuning & volume) plus an on/off switch. The main and unique thing about this set is the tuning arrangement, it is truly a unique slide rule design with 1/2 of the tuning condenser sections mounted on a stationary plane while the other is on a gear driven movable plane geared directly from the tuning knob shaft. It work smooth and efficient with a minimum of parts in very little space. The movable half of the tuning condensers have the dials scales mounted on it and are visible through two small windows (one a 0 - 100 log scale, the other is in meters, 150 - 550 which translates to 545 - 1900 KC) in the heavy cast front panel.
The physical design of this set is very advanced for the era but is fairly flimsy and simple in the way its put together with simple nuts and bolts (no lock-washers anywhere). The circuit design is a strait forward 3 stage TRF with an additional audio stage. It has the look of a prototype set that was constructed under primitive conditions as all the parts seem to be fabricated specifically for this set, sans the tubes and audio transformers. The case is beautifully made of solid walnut.
After restoration I was anxious to see how it performed and was amazed at the sensitivity and selectivity. It came to life, receiving a station as soon as I applied power even before the antenna was connected (which unheard of for any battery set to do anything where I live without my attic antenna connected). With all the shields in place this set was pulling in a Portland station with only the 16" piece of wire for the antenna connection.
Included with this great piece is the original owners manual.

< Reprint of the owners manual is available
< Power supply for 1920's battery radios available
| | |
| --- | --- |
| return | RadiolaGuy Collection, not for sale |