Pepsi Bottle Radio
large 1940's tube radio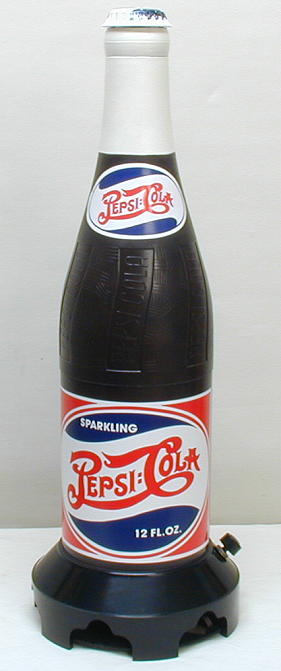 > click here to view inside the radio
The Pepsi bottle tube radio was made during the 1940's and the earliest versions were first available around 1940. It's 24" tall, made of Bakelite, featuring the "All American Five" tube line-up". The cap serves as the station dial and tuning knob. Volume control on/off switch is at the bottom right side, speaker faces down from the inside bottom. You can distinguish the early and late versions by the tubes used, the late versions used miniature tubes, the early versions had octal based tubes.
Ordering & Shipping Info > PLEASE READ < BEFORE ORDERING!

4 piece vinyl decal set (shown above) $40.00 with free US shipping, new or aged look, specify when ordering.
********************************************
NEW ITEM: (below) bottom cover made of .1" stiff cardboard with schematic (quite small), external antenna clip, solder lug and tube chart, just like the original. NOTE; the tube chart & tiny schematic are for the model with the miniature tubes (35W4, 50B5 etc).