Westinghouse-Aeriola Sr for sale
1 tube receiver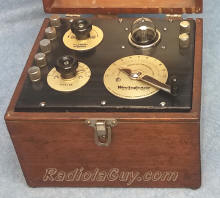 Aeriola SR, early version, ca:1922
Click any area above for enlarged views
| | | |
| --- | --- | --- |
| | | |
This Aeriola Senior has been electronically restored and offered complete with tube in good operating condition. The case is in good original condition sans some some small notches someone made so the wires could exit with the lid closed (can be seen in the enlarged views near right rear hinge). The tube supplied can be a *'99 that's had the base modified to fit the original WD11 socket. Or the tube shown is an original non working large, early brass based WD11 with top tip. There will be an option when purchasing. The lid label appears to be original in good condition and the silver finish on the dials are in superior condition.
One tube radio receivers are capable of headphone listening only, an amplifier such as the Radiola AC or other 2- stage audio amplifier is required for loud speaker listening.
* the UX or UV 199 tube is an excellent substitute for the WD11 but requires a 3 volts the filament supply. They are less expensive than the (poor quality, easily damaged WD11), easier to find and perform much better than the WD11.
SEE THE RADIOLA VERSION


< Manuals, labels & other paper for the above and other RCA Radiola models are available.
< Power supply for 1920's battery radios available