RCA Theremin
model AR-1264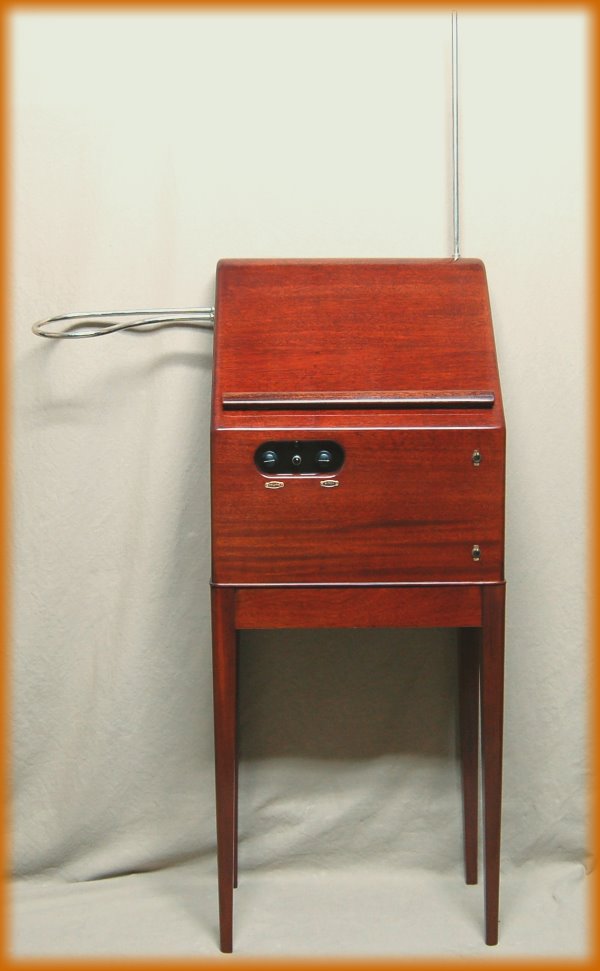 RCA THEREMIN AR-1264 Circa 1929, The first
electronic musical instrument
The inventor, Leon Theremin was a young physicist born in Russia. He came to the US in 1927 to demonstrate his new musical instrument which was played by the motion of the musicians hands in the space surrounding the instrument. Leon met and collaborated with a young lady (also from Russia), Clara Rockmore a child prodigy who was an accomplished violinist at a very young age. After extensive touring in Europe she ended up in New York City and later performed in concert as a "Theremist". Most concerts were for the rich and fashionable and were attended by invitation only.
In 1929 Leon Theremin licensed RCA to manufacture the Theremin. RCA's kickoff promotion sought to assure the public that anyone could play this instrument. This proved not to be the case, you see the Theremin is played without reference to fingerboard, keys or frets. It required the artist to have perfect pitch in addition to precise control over finger, hand and body motion. For these reasons the Theremin was not a commercial success. Few musicians knew the basic fundamentals for giving lessons. After RCA's initial production of a few hundred units, the Theremin was discontinued.
At this point Professor Theremin perceived the importance of developing artist and professional playing techniques. Clara Rockmore was just the person to achieve this. In the early 30's she gave her first solo performance and held audiences spellbound. She went on to be guest performer and solo artist with many symphony orchestras for the next 20 years.
Although Professor Theremin's invention was not a huge success, it was no less a marvel of engineering for it's time. Professor Theremin, without the aid of an oscilloscope or other modern laboratory instruments, understood how the complex wave-shaping characteristics affected sound. he incorporated a pure sine wave oscillator to control the volume of his instrument, while using a different oscillator full of rich harmonics to produce the sounds of the Theremin. The music of his invention can be heard in many old movies, popular tunes and even TV themes.
To hear the Theremin the way it was meant to be played, you must hear the album by Clara Rockmore: "The Art of the Theremin", it has been released on compact disk on the "Delos" label.
The Theremin shown belongs to me, it was purchased from an Oregon resident about 18 years ago. I restored and re-finished it. It was originally purchased by the prior owners father in Chicago, IL. and inherited from his estate. The speaker was also restored and re-finished by myself.
the serial # is 200183
RCA THEREMIN and RADIOLA 106 SPEAKER
The Radiola 106 speaker is not unique to the Theremin. It was RCA's top-of-the-line accessory speaker and was sold alone as a power speaker that could be used on any 1920's radio or audio amplifier. It was however supplied with the Theremin.
< Manuals, labels & other paper for the above and other RCA Radiola models are available.
the Theremin is no longer available