B&K 1246 Digital IC Color Generator
for parts or s as-is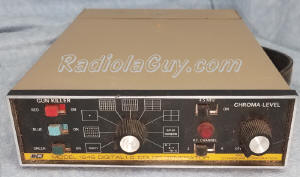 Tap/Click and image to enlarge


size compare

generated color pattern


cross hatch pattern

insides
B&K IC Color Generator
model 1246, ca: 1970
A cute and compact little piece of vintage color TV equipment. Useful to testing the color circuits, making purity adjustment and convergence.
I'm offering this piece as-found at a low price because I acquired it at a low price in a recent acquisition of several pieces of vintage gear. I have not serviced or calibrated it it as it appears to be in decent working condition as can be seen in the photos.
I opened it up to make sure it was not damaged or corroded inside. As you can see it is quite clean, all original and unmolested. It also has the original manual with schematic and parts list.
I have far too many projects, too busy and too to pursue a quality restoration. I'm trying to clear my project shelf.
ONLY $33.00 plus $22.00 shipping within the continental USA
(includes the original manual with parts list & schematic)