B&K 162 Transistor & FET Tester
sold as-is for parts or repair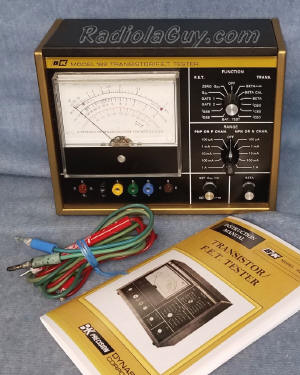 Tap/Click and image to enlarge
B&K Transistor Tester
model 162
I'm selling this piece as-is for parts or buyer completes needed repairs. I was going to restore for my own use. But shortly after I started, I found another in nicer condition.
I opened it up to do the restoration and found the batteries had been left in and had puked out and corroded the clips that held 'em in place. Thankfully the extent of the corrosion was limited to the batteries and their mounting clips. The next thing I did was to remove the batteries and their badly corroded mounting clips. When I purchased the second one, I ceased work on the this one. The extent of what I had done was to connect the necessary voltages supplied by the batteries give a quick check out. The meter works smooth (no sticking) through-out its range. The instrument seems to work OK, however a thorough check of all functions was not performed.
Even though I believe it to be in working condition (that is with replacement of the battery clips and new batteries. I'm selling this piece as-is at a low price because I acquired it at a low price in a recent acquisition of several pieces of vintage gear. The batteries were originally soldered in place at factory level. Here's an image of how it should look with new clips & batteries:

I have far too many projects, too busy and too old to pursue a quality restoration as I am trying to clear some items from my project shelf.
ONLY $33.00 plus $24.00 shipping within the continental USA
(includes the manual with parts list & schematic)