B&K 675 Automatic
"Dyna-Quick" tube tester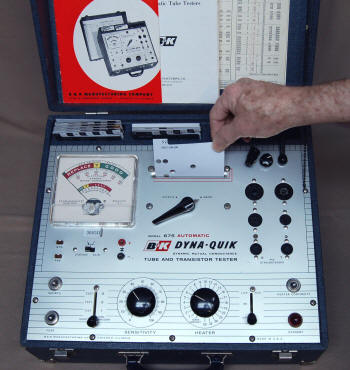 B&K "Dyna-Quick" 675 Automatic (Card-o-Matic type)
Here's a simple to use and very reliable tester for Octal, Loctal and 7 & 9 pin miniature tubes. Great for the Hi-Fi, stereo and Guitar Amp tubes from the 40's - mid 1960's. This unit will not test the early large pin tubes of the 20s & 30s or the newer (late 1960's on) which are the; Novar, Duodecar (Compactron) based tubes (which were mostly used in TV's).
Year: mid 1963
Special features, comments: just insert a card, make two settings and test
Measurements (approx): 16 X 13 X 8"
| | |
| --- | --- |
| return | the instrument has been SOLD, photo reference only |
(P.S. This message will only appear once!)