HeathKit IT-5230 CRT Tester/Rejuvenator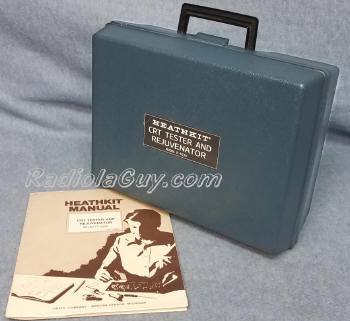 Click/Tap any image to enlarge
One of the best and simplest to use CRT tester/rejuvenators made (my opinion).
There's no thick manual of complex test set-up instructions needed with this instrument.
Heathkit designed this instrument for testing and rejuvenating most* of the CRTs made during the 1950s, through the mid 1970s. The only instructions needed are the simple steps placed in the instruments lid.
You won't find one of these in any nicer condition unless new in the original box. I rarely use the words "mint" or "near mint" as so many sellers carelessly and ignorantly use. But I will use the words "Near Mint" to describe the condition of this instrument. It is in perfect cosmetic and operating condition, an exceptionally nice, very clean piece.
The IT-5230 will test both color & B&W CRTs. With care and a bit of understanding, it can be be used to test the more obscure & even the more recent CRTs that were introduced later years. The IT-5230 was first offered in the mid 1970's.
* The lid instructions are based on CRTs with a filament of 6.3 volts which was the standard used in nearly all CRTs made for consumer electronics during the '50s - '70s. One exception that I'm aware of, was the 21EAP4 used in the Philco "Predicta". The 21EAP4 has a 2.35 volt filament. So care and understanding must be made when testing CRTs that have a non-standard filament voltage. The IT-5230 does have a meter dedicated to monitor the filament voltage. I recommend extreme caution when testing a CRT with a low filament voltage.

< available, Published in 1962 by Philco. Detailed specs including operating voltages and base diagrams for just about all CRT's made (including scope tubes) from the early 1930s to published date.


<< click for more info


< available, reprint Heathkit manuals for above and other models

the instrument has been SOLD