Hickok 600 Tube Tester
for sale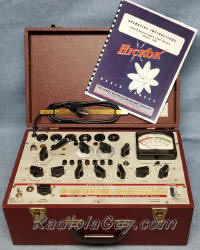 click/tap any image to enlarge
The 600 will test all the consumer tubes from the early 1920's into the late '60s. That includes the early big pin, octal, Loctal, 7 & 9 pin miniature tubes. Will not test the newer based tubes that became popular; (mostly in TV sets) in the mid - late 1960s. It will even test those; (compactrons, duo-decar & large novar) tubes with the aid of the CA-4 or CA-5 adaptor (which I do not have).
This case of this instrument is in better condition than most of these 70 year old instruments. Most of 'em were beat up in their early days being banged around in the back of a service truck. The case and insides are quite clean and have been well cared for.
I have serviced and calibrated this instrument and its in excellent working condition. The roll chart (dated 1955) works smooth from one end to the other.