Sencore TC142 Tube Tester
"Mity Mite" IV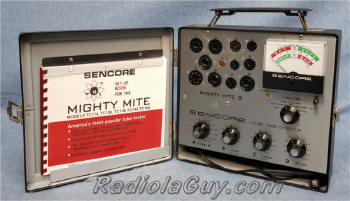 Click/tap any image to enlarge
A small, excellent and very popular tester for testing tubes from the late 30's - thru the late 70's. It will not test the early pre-octal types (old large pin tubes from the 20s & early 30s). Even those early tubes could be tested on this instrument with an appropriate adaptor which I do not have nor offer. Such and adaptor could be made with; the right skill-set, some knowledge and a good tube manual.
Features a very extensive tube test set-up manual that will test just about all US, Foreign and Industrial tube types from the late 1930s thru the late 1970s. Has more than 3000 listings (more than any other tube tester). Features a highly sensitive grid emission test which is not found on many testers. A very clean and well cared for piece.
I have restored, calibrated and tested all functions of this instrument, all works like new. I spent way more time than the monetary value re-mastering and creating the more than 100 page set-up manual. The original manual was missing. The only manual I could find had every page in very poor condition. I spent more than 16 hours (on & off, not all at one one sitting) painstakingly digitally re-mastering every page.
| | |
| --- | --- |
| | $525.00 with FREE Continental USA SHIPPING |
< Sencore Test Equipment manuals are available.