Sylvania 140 tube tester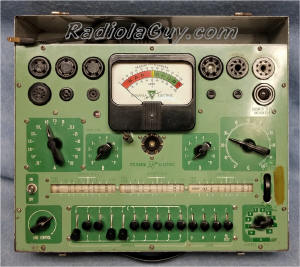 6
Sylvania 140 tube tester ca:1950
Click/Tap any image to enlarge
This is an excellent tester for testing tubes from the early 1920s to the late '50s and some early '60s. It will test some newer tubes with the aid of adaptors which I do not have.
Most emission testers apply only a voltage to the plate of the tube under test and test any tube as a rectifier. Not so with the Sylvania 140, it applies a potential to all the elements of the tube under test. With voltages to the control grid, screen grid and plate makes it a Transconductance tester which is several steps above a simple emission tester.
Here is a list some of the work done:
A good cleaning, inside and out

all controls and switches cleaned

all resistors, capacitor and other components tested, off specs items replaced.
The case of the "140" is all metal and certainly shows the wear and tear of 70 years of handling, storage etc. It could use a good paint job. However other than some notable wear around switch "E" and the roll chart thumb wheel, its in very clean and decent condition. After the needed service was performed by Yours Truly, it now works as good as new.
The instrument has been sold
.

< Instruction manual, obsolete and updated tube test data are available separately for the above and other models