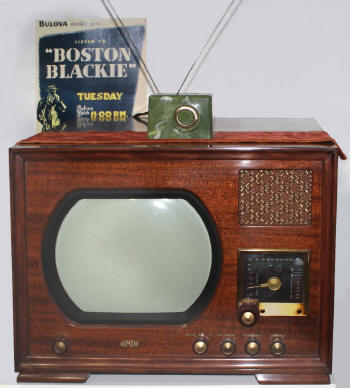 Dumont RA-103-D ca: 1949
My favorite television, when I was 15 years old, I had one of these that was purchased for $5.00 from a department store from their trade-in stock. Yes in those day (early 1950s) stores would give $100 trade-in allowance on a new model TV (good profit in TV sales back then). My step-father would buy these by the pick-up truck load and those that I could get working, we would haul to the auction house. I was able to keep one just like the above and when I left home at the age of 16, I took it with me and kept it until I joined the Air Force in 1959.
When I started collecting radios and televisions in the 1960s, I was always on the hunt for the above model and did not find one until many years later in 2004. It cost me over $400 to have it shipped from New York to Washington State (where I now live).
I lovingly restored it to proper working order and it is now a permanent part of my collection.
Screen size: 12"
Tuner type: continuous with FM radio band expanded between ch. 6 & 7
Power consumption: 327 watts
Tube count: 30
Measures: 23 x 20 x 18"
Weight: 98
return this television has been sold