Philco H3407C Predicta television
Seventeener "the Debutante"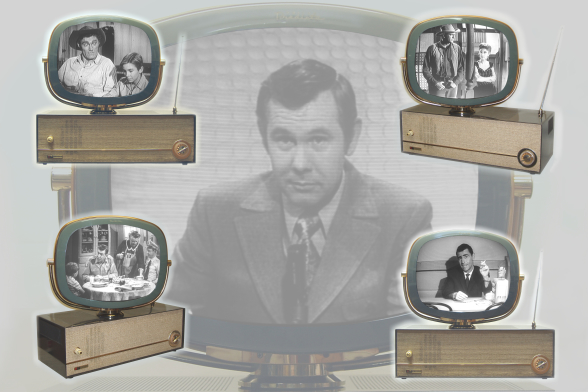 click any area above for alternate view
Screen images are actual pictures taken on this TV from a signal supplied by a DVD player. The DVD signal was fed into an adaptor and converted to channel 4 via means of a GE RF converter (modulator). Readily available at Target for less than $20.00
Circa 1958, 10L43 chassis, the "Debutante". One of several versions of the "Seventeener" line. This one has undergone a meticulous electronic restoration and works like it was brand new. My restoration includes a thorough cleaning inside the CRT enclosure, cabinet and chassis. I then replaced the original faulty tubular capacitors, any resistors that have strayed off tolerance & other needed parts. I then performed complete tuner cleaning & re-build plus a complete RF/IF alignment. This set also has a new rebuilt CRT (the bare cost of the CRT alone would exceed $350.00).
When I restore one of these, I do not do it the quick and easy way that some do. Most "electronic mechanics" chop off the faulty components from the circuit board and "scab" on new ones without removing the circuit board. This is not good because doing so not only looks sloppy but can cause bad (cold) solder joints that will sooner or later give more problems that someone else will have to fix.
I remove the circuit board completely, clean it, check and replace all faulty components (including resistors), inspect and replace worn or damaged tube sockets, inspect the solder joints and re-solder any loose or suspicious ones. Click here to see a before & after image of a 10L43 circuit board that I have restored.
<< High quality reprint paper items (manuals, labels, instructions etc.) are available for the above other models.
the television has been sold