RCA 621TS Television
blonde version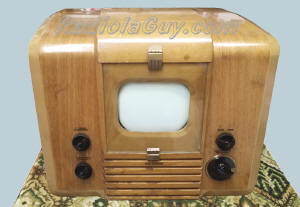 RCA 621TS, ch. KCS 21, ca: 1946
click/tap any image for enlarged view

oblique view

over the air picture

over the air picture

rear view with original back


all done, ready for the cabinet

Hard to find "Blonde" or "Limed" version of RCA's first post-war television, the cabinet was designed by John Vassos. This model is actually a left over pre-war model that was shelved during the war. After WW-II, the tuner and electronics were updated with the new post-war NTSC broadcast standards. The 621-TS in Blonde finish is the most scarce of all RCA's direct-view, post-war televisions. A well designed set for it's time that will perform quite well (when properly restored).
Year: 1946
Case: wood
Screen size: 7"
Channel coverage: VHF, ch. 1 - 13
Power transformer: yes
Measurements (approx): 19 x 16 x 15"
| | |
| --- | --- |
| | < Service and Instruction manuals are available for the above |
| | |
| --- | --- |
| return | Radiolaguy's collection, the television is not for sale. |