Gilfillan radio model 32
Gilfillan Bros. Inc.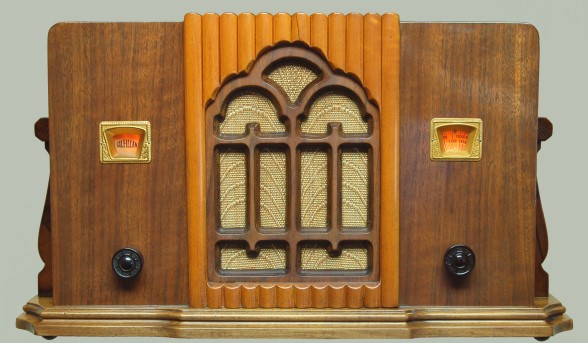 Model 32 ca: 1933
I acquired this beautiful piece more than 20 years ago from my good friend Steve Berglund of Seattle, WA. At that time, the finish was stripped and it has sat on the floor of my radio room until early this year when I decided to complete the restoration (which was done by yours truly around just prior to this posting).
I've always admired the architecture of this set and have not seen another like it. It's an early super-het and a fine performer for such an early 5 tube radio.
The tube line-up: 57, 58, 2A6, 2A5 & 80.
Year: 1933
Cabinet: wood, walnut & maple
Dial: back lighted
Tuning type: capacitance, super-het
Power transformer: yes
No. of tubes: 5
Frequency coverage: AM, standard broadcast
Antenna requirements: external long-wire
Measurements (approx): 17 x 10 x 8"

| | |
| --- | --- |
| | < Dial scale available |
| | |
| --- | --- |
| return | the Radio has been sold |