Jackson-Bell Peter Pan Radio
model B (Sovereign)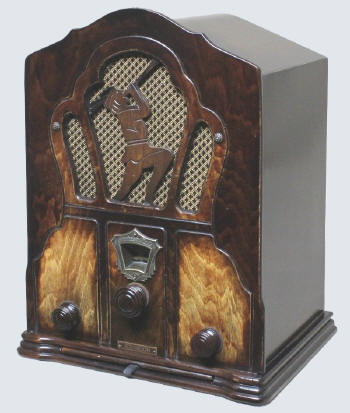 The above version of the "Peter Pan" radio by Jackson bell is one of several models made for the Jackson Bell company by the Gilfillan bothers Radio works in southern California, (Los Angeles area).
Gilfillan was one of the largest manufacturers of radios during the 1920's - '40's and the company today still exist as a division of ITT. During the 1930's Gilfillan made radios for many companies under numerous brand names, possibly hundreds including department store brands in the LA area.

Year: 1933
Cabinet: Walnut & other veneers
Dial: lighted
Tuning type: capacitance, Super-Het
Power transformer: yes
No. of tubes: 4
Frequency coverage: AM, standard broadcast
Antenna requirements: long-wire
Measurements (approx): 11 x 9 x 7"


model "84"

< dial scale available
< chassis sticker available
from my collection, not yet for sale