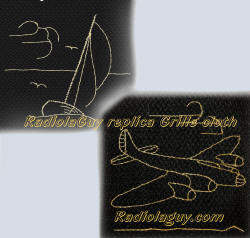 Now available, grille cloth replacement for the Zenith 7G605 Transoceanic radio. It's printed on 100% Cotton Poplin cloth (200 thread count).
Available made to be mounted on a piece of common metal screen door screen wire material. Recommended method of mounting is to cut a piece of the screen wire a bit over-sized, then spray the screen on one side with an adhesive such as 3M 77 adhesive.
Lay the screen wire, adhesive side up on a flat surface and apply the cloth over the sprayed area. Place a piece of common kitchen wax paper over the back side of the cloth, weight it down with a flat piece of wood or other material and let set for about 10 minutes. The after about 10 minutes remove weight and wax paper and with shop scissors, trim away the excess screen wire.
Its now ready to be mounted in your radio.
Ordering & Shipping Info > PLEASE READ < BEFORE ORDERING!

$29 for one cloth or $49.00 for two Mix or match.
| | |
| --- | --- |
| | < Repro labels & other flatwork available |