Battery Labels for sale

Info on battery powered radios

Info on making your own replica No. 6 "A" cell.

Info on making replica batteries for the Radiola IV

Info on making a replacement 4.2 volt Mercury cell

Info on making the Philco Safari battery

IMPORTANT - Please Read about price reductions and changes with my labels

above represents a sample of some of my battery labels that
have been applied to replica batteries that I have made

IMPORTANT!
Below are my battery label offerings
Use the PayPal button to order battery labels.

Western Electric


1
Western Electric


2
Zenith


3
Philco


4
Ray-O-Vac


5
Eveready


6
Eveready


7
Eveready


8
Burgess


9
Franco


10
Columbia-Tel


14

All battery labels shown above are the standard No. 6 size; (2, 5/8" OD. x 6 - 1/8" tall) or the standard "D" size (4.25 x 2.25"). The labels are made of high quality 44# laser paper. They are non-adhesive and made to wrap around a tubular frame of a replica battery or original battery. They must be glued in place or use double sided Scotch Tape. The "A" battery labels come one per sheet cut and trimmed ready to apply. Priced at 15.95 for 1 label, the price is discounted when ordering two and more labels.

NEW "D" cell
labels

You may now order labels for standard "D" cell batteries by using the same numbers that apply to the "A" batteries. The A battery labels will be altered to properly reflect the "D" cell properties. These come on a sheet of 6 per sheet, you cut and trim before application. Prices start at $15.95 for one sheet, discounted when ordering more than one sheet.

IMPORTANT - Please Read about price reductions and changes with my labels

Ordering & Shipping Info PLEASE READ BEFORE ORDERING!

NOTE! PayPal will add shipping cost to each item except international orders. I will always combine multiple orders & refund any shipping overcharge.
return


Batteries labels for the Radiola IV battery needs



2 "B" battery labels, fahenstock clips & "C" cell label (as shown below), 5 piece sets (includes top cover sheets) $30.00 + shipping. "A" battery labels not included, order you choice of "A" battery labels separately. Click on the Burgess battery label for details.

New Offering: for ($22.ea.) ea. you may order single (or multiple) "B" battery labels that include fahenstock clips & top covers, click on this image to view. Contact me for custom box sizing.

Click on the Burgess battery label for box size.
IMPORTANT INFO ABOUT the BATTERIES BELOW - Please click > HERE and Read Before Ordering

The above info is to provide some basic information for those wishing to make functional and authentic looking batteries for the Radiola IV or other battery radios of the 1920s. I have reproduction labels of original batteries of various brands available and can be seen and ordered by clicking here. I offer detailed instructions on making the "A" cells.

To make your own "B" & "C" cells, I provide only basic info, other details are left up to one's imagination and abilities. The measurements for the batteries I made (and what you get when ordering) are provided on the enlarged views. The "B" battery labels do not have adhesive backing and must be cut and trimmed after mounting to your box.


5 piece label set below - click on any of the images for detail.
PLEASE READ MY: Info on battery powered radios
return

========================================

REPLICA No. 6 "A" cell replica instruction suggestions
HOW I MADE THEM

I'm going to show you how I make an original looking battery so you can make your vintage radio that requires a No. 6 "A" cell look and operate as it did originally.

DISCLAIMER! PLEASE NOTE THAT THE AUTHOR ASSUMES NO RESPONSIBILITY FOR PROBLEMS, ERRORS OR FAILURES THAT MAY OCCUR IN ANY ATTEMPT FOLLOWING THE SUGGESTIONS I HAVE OUTLINED BELOW. THESE ARE ONLY SUGGESTIONS AND SOME DETAILS MAY HAVE BEEN BE LEFT OUT OR LEFT UP TO THE BUILDER TO FIGURE OUT.

========================================

I

nstructions/Suggestuions below:

Refer to the steps and pictures below (enlarge images by clicking on them) and follow these suggestions:
Start with a 2.5" paper mailing tube, these can be ordered from PaperMart.com; http://www.papermart.com/mailing-tubes/id=18891-INDEX I use the 13" size that can be cut to make 2 batteries. - image #1 (below)

Cut the tube in to 2, 6-1/8" lengths being careful to make true and even cuts. - image #2

Trim the lip from one of the mailing tube ends. - image #3

Punch or drill holes for the hardware, install 5/8 brass 8/32 bolts, thumb nuts and wire. Be sure the terminals are flat against the plastic end cap so they do not interfere with the batteries to be installed later. Put a piece of electrical tape over exposed terminal area to prevent contact with the batteries that will be installed later. - image #4

Apply a bead of Elmer's glue as shown in - image #5

Trim & remove excess glue. - image #6

Carefully push the prepared tube end (with hardware & wires mounted up into the glue bead leaving 3/16" space evenly above the top of the plastic tube end. - image #7

Let the glue dry for about 30 - 40 minutes. Before pouring the epoxy, carefully apply a coating of Vaseline or wax to the top threaded area of the brass posts (this is to prevent the epoxy from migrating up the threads of the posts). Do not allow any of the wax or Vaseline to get any on the areas that will be submerged in the epoxy. Make sure the top is perfectly level and fill the end cap with *epoxy tinted to the desired color all the way to the paper brim. Note; the Elmer's glue will not adhere to the plastic end cap, the glue is to seal it to the paper so the epoxy will not leak through - image #8

*I use Tap Plastic's Super Hard 4- 1 epoxy and their pigments. I'm sure other brands and resins will work equally as well. Don't use the stuff in the squeeze tubes.
*IMPORTANT NOTE! be sure the epoxy it thoroughly mixed before adding the color pigments for tinting. The epoxy will not cure properly if you fail to do so.

Prepare a 2.5" mailing tube as described above for the housing.
The images below can be enlarged by clicking on them

Now stuff it with batteries and apply the label.
The images below can be enlarged by clicking on them

The epoxy will require 24 or more hours to completely cure, then continue with these steps (below):
Prepare 2 dual "C" holders (available from Radio Shack) as shown in. - image #9

Rewire each holder so when the batteries are installed as shown, they will be 4 batteries in parallel. - image #10

Insulate all the exposed wire and outside contact areas (all areas are not shown), be sure and do all on each end of both holders). - image 11

It is very important that you make sure you have wired the holders correctly so all 4 batteries are in parallel and installed as shown, wire the holders so the center (top of No. 6 terminal) is positive. - image #12

The batteries and holders are now ready to stuff in the tube. If you sized everything correctly, the the batteries and holders should fit snugly in the tube with the end cap in place.

I suggest trimming off the excess label with a very sharp razor knife after the label is secured in place and then placing the end cap on. - image #13

Your battery is ready to use - image #14
I strongly recommend that you use only high quality, brand new, fresh batteries such as Duracell or Energizers. Since the batteries are all in parallel, one weaker battery will drain power from the others and discharge more quickly. Another way to put this is there will be current flow from the strong batteries to the weak one/s having a battery charging effect.

#9 prepare "C" cells

#10 solder negative ends

#11 insulate (all
exposed areas)

#12 wire all in parallel

#13 apply label

#14 all done

=========================================

EVEREADY E233
used in some 1950's transistor radios
Substitute this 4.2 volt mercury energizer
| | |
| --- | --- |
| | < measurements of this battery = .65" dia. x 1-15/16" length. |
Unfortunately, the above battery is no longer in production but if you are capably of a little soldering, here's how you can bring your radio that needs this battery back to life. Keep in mind that the my little battery replacement is a bit larger in diameter (.84"), so before making one, be sure your battery compartment will accommodate the made up replacement battery.

All it takes is 3 "AAA" batteries wired in series and bundled together (like shown in the images below) then solder to the appropriate terminals.

With the 3 "AAA" cells, you will get 4.5 volts instead of the 4.2, but this difference is not significant.

3 "AAA" cells & a piece of heat shrink tubing.

form them together in a triad

Then solder in series solder on lead wires. Use liquid tape to insulate the ends after soldering




NOTE: Be sure and determine the correct polarity of the battery and holder before soldering.

========================================

Philco Safari Television
model H2010 circa 1959
MAKE YOUR OWN BATTERY for this model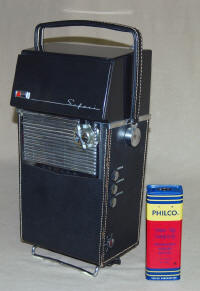 Philco H2010 Safari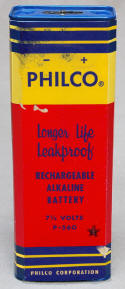 original battery

Unfortunately, a replacement battery for this historical set has long since been extinct but all is not lost. Here I will detail how I fabricated a working battery for my Safari. It will be much easier if you have an original battery so you can gut it out and replace the contents with new rechargeable NiCad's.

If you do not have an original, you will need to fabricate a housing the same size as the original battery. The measurements are; 7 1/8" tall x 2 5/8" wide x 1 1/2" thick, rounded on all 4 sides. the hardest part will be finding (or fabricating) an appropriate socket. If you are not resourceful, don't have good technical skills & don't know how to solder properly, you just as well stop here and seek some help from a skilled technical person. A minor modification is also required inside the Philco Safari. This will be explained below.

If you have an original battery, first remove the paper cover. If done carefully, it can be reused, if it's badly damaged, I can supply a repro label.

Now refer to the pictures below (enlarge by clicking on them) and follow these steps:
Find an original battery or fabricate a similar container for the new NiCad's. ref #1

Cut the old container in half and gut the contents being careful not to damage the socket. ref #2

Once the old battery can is cleaned out, prepare 7 (sub C size NiCad's). Wire them in series, attach the positive and negative lead wires, bind them together and insulate all the terminals. I enclosed the whole NiCad package in a large piece of heat shrink tubing. ref #3

Now stuff the new battery package in the bottom half of the can and solder the wires to the battery plug socket (top of the can). I used thick cardboard spacing pieces on all 4 sides and the bottom of the battery pack. ref #4

Place a piece of insulating material on the top of the battery pack to prevent any shorts across the battery socket's underside and slide the top of the can over the top of the battery pack.

Once everything is properly fitted and aligned, tape the two halves together using a single layer of metal, aluminum duct tape carefully placed without bulges or wrinkles. Use this type because it's thin, has great adhesive power and if done carefully it will not leave a noticeable seam. ref #5

Before Appling the new label, be sure and test your new battery pack for function and proper polarity. Now you can now apply either you original label or I can provide a reproduction label for a nominal fee.

IMPORTANT, before powering up your Safari with your new battery, a small modification must be made inside the TV. The old battery provided 7.5 volts, the new one will give 8.4 volts. A resistor value change should be done to reduce the voltage to the CRT and the rest of the set. See Schematic & Mod.

If your Safari works properly from house current, you are now ready to charge the new battery. With your TV set to the charging mode, charge the battery for 24 hours. If your TV is not working properly, have it fixed by someone knowledgeable before attempting to operate or charge the battery.

With these smaller size (sub-C cells), my set will run about 2.5 hours before noticing any decrease in performance. It takes 20 - 24 hours to recharge the battery pack using the original built-in charger.

NOTE - the set must be turned on and the rear switch in the charging position to charge the battery. Be sure and turn it off after 24 hours. There is no built in protection from overcharge or charge monitoring system in this set.
The images below can be enlarged by clicking on them


1
battery w/Philco cover removed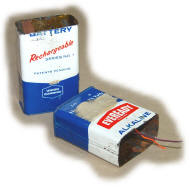 2


cut and gutted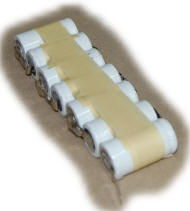 3

new cells ready to insulate,
attach leads & install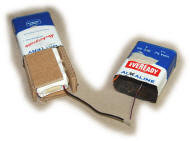 4
batteries insulated &
stuffed in bottom of case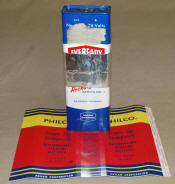 5
ready for new label

finished

A new wrap around label is available, order> here

I only offer the labels for battery making. The fabricating of the containers is strictly the responsibility of the builder. Although I offer details of how I did it, I assume no responsibility on how your efforts will turn out. The Burgess "B" battery label is made for a specific sized box (shown when clicking on the image link). The height of the label is a bit higher than needed and is meant to be trimmed to fit your box after mounting.