The list below are 1920's/30's tubes. Both "ST" and "Antique Globe" styles are included. If available in the "Globe" style, they will be listed with their original "UX" or "UY" prefix following the 2 digit listing (some globe styles do not have the prefix).
=======================
** indicates new old stock (NOS)
Bold text = "ST" style glass
PLEASE > READ < BEFORE ORDERING
If you don't use PayPal - click here
Tube Number

Price Ea.
Purchase



USPS INSURANCE

add if insurance is desired with purchase of tubes

Add Insurance
if desired up to $500.00
(USA ONLY)

insurance is required for international shipping

WD-11
(Bakelite base, no tip)

$59.00
(limited quantities)
01A "ST" style
OUT OF STOCK
(Use UX-201A)
UX-200A
"Globe" style) gas filled detector
$29.00
(limited quantity)
OUT OF STOCK
(201A will work in most apps.)
UX-201A (01A "Globe" style)
$29.00
2A3 (double plate)
inquire
2A3 (single plate)
inquire
5Z3
$18.00
**10/10Y NOS (VT-25)
inquire
UX-210 (10 globe)
inquire
12A "ST" style
$36.00
UX-112A (12A "Globe" style)
$35.00
20
inquire
UX-120
order the #20
24A "ST" style
$15.00
UY-224/A (24A "Globe" style)
$20.00
UX-226 (26 "Globe" style)

out of stock
USE #26
26 "ST" style only

$20.00
27 "ST" style only

$20.00
UY-227 (27 "Globe" style)

$25.00
30 "ST" style only
$15.00
35/51
out of stock
24A is an ok sub
UY-235 (35/51 "Globe" style)
out of stock
UY-224A is an ok sub
41
$15.00
42
out of stock
#41 will work fine in sets with a power transformer
45
$49.00
UX-245 (45 "Globe" style)
out of stock
Use #45
46 "ST" style
inquire
246/346 "Globe" style
inquire
47 "ST" style
inquire
247/347 (47 globe)
inquire
UX-250/350 (50 globe)
out of stock

Use #50
71A "ST" style
$39.00
UX-171A ("Globe" style)
$49.00
75
$ 15.00
76
inquire
77
N/A
80 "ST" style
$25.00
UX-280 (80 "Globe" style)
out of stock
use #80
81
$22.00
82
inquire
83V
inquire
99/V99 (tubular bulb)
UV-199/V99
$48.00
99/X99 (tubular bulb)
UX-199/X99
$45.00
Looking for rare & collector tubes?
If you don't use PayPal - click here
=======================
NOTE: Prices do not include shipping and
insurance. If insurance is desired, it must
be requested and purchased separately.
If shipped un-insured the buyer assumes
risk of loss or damage. Prices may change
and inventory depleted without notice.
The differences in the "ST" & "Antique Globe" style tubes are strictly cosmetic. The "Globe" styles are the early style & less common. They command a higher price because they look more authentic when peering into the insides of the 1920's radios.
Some notes on 1920's tube numbers, types and bases
Vacuum tube numbers were not standardized until the early 30's. At that time all the prefixes such as "UX". "UY" and other pre-fixes were dropped. Examples:

No. UX-201A became a "01A", a UY-227 became a "27" and so on.
An "A" suffix on tube number indicated an improvement over the previous version.
---------------------------
O1A & 201A, WD-11, 99's
^click on the above for images of these tube types & styles

CX base = Cunningham's designation for the UX base
UV base = 4 stubby pins
UX base = 4 long pins
UY base = 5 long pins
early battery tube
basic specifications:
UV/UX-200 (00)
gas filled triode detector
filament: 5 volts 1A tungsten
UV/UX-200A (00A)
gas filled triode detector
filament: 5 volts .25A throated
UV/UX-201 (01)
triode AF/RF amplifier
filament: 5 volts 1A tungsten
UV/UX-201A (01A)
triode AF/RF amplifier
filament: 5 volts .25A thoriated
UV/UX-199 (99)
triode AF/RF amplifier
filament: 3 volts .25A thoriated
WD-11
triode AF/RF amplifier
filament: 1.1 volts .25A coated filament, special base
WD-12
electrically the same as the WD-11 except for the "UV" base
00A, same as UX200A
01A, same as UX-201A
301A, etc, same as 201A
C-11, same as WD-11
C-12, or X12 same as
WD-12
12A, same as UX-112A
71A, same as UX-171A
80, same as UX-280
Below are links to images
of some interesting tubes:

some vintage tube photos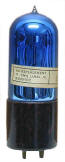 Brightson
Blue